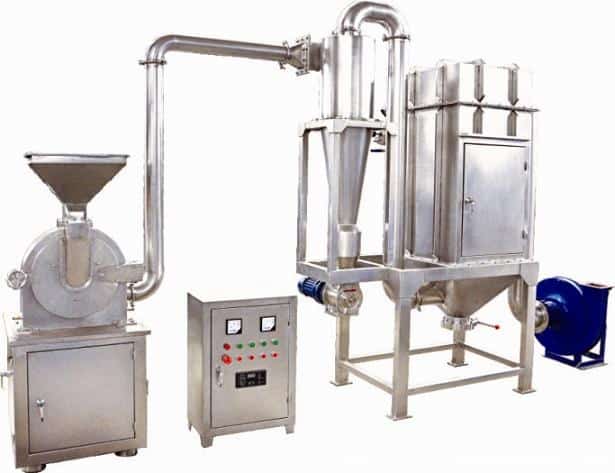 This rice powder grinder plant is a new kind of micronizer with high efficiency, including draught fan, DE duster, powder collect. The grinding and classifying function are fixed in one chamber, but operated separately.
Rice powder grinder is widely used in food industries with the features of general function, tight structure, stability, low power consumption, universal use, no over-grinding, adjustable fineness of powder, easy maintenance, etc.
The rice powder grinding, classifying and production are processed in one obturating system.
No pollution after dedust. It is the ideal complete set for sanitation and safety, especially for heat sensitive and sticky material.

Working Principle of Rice Powder Grinder Plant
The raw material enters into the grinding chamber through the feed hopper, the material, impacted by the high-speed rotary cutters, is thrown to the fixed liners, then is bounced and sheared,. Meanwhile, under the impact, cut, rub force by turns, the material is micronized well. Under the pull force. The finished product is absorbed into the cyclone collector through the sieve. A little of superfine powder is collected by the pulse deduster.
Advantage Features of Rice Powder Grinder
In the rice powder grinder machine chamber, there is the leaf structure, when operation the air in the grinding chamber is blown out by the rotary leaves taking out the heat. Therefore, there is no much heat in the chamber to ensure the characteristic of the material.

When operation, the strong air flow can expel the material out. So it can pulverize the heat sensitive and sticky material with good effect.

For the good performance on the heat, it can be substitute of universal crusher.

Expect the pull force of the fan, the air flow in the grinding chamber blows the fine powder out (the fineness of the powder is adjustable through the sieves.) Thus, it can increase the capacity of the machine.
Welcome to Contact Us