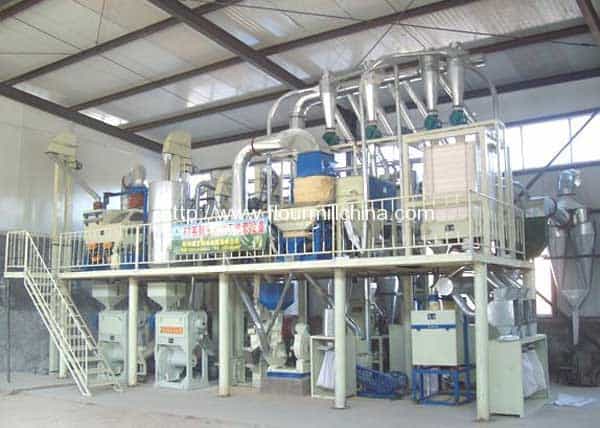 The main equipment to produce corn grits including cleaning machine (to remove impurities, stone, and magnetic separation), tempering machine, Sheller, germ extract machine, crushing machine, grading machine and polishing machine.
Total power is about 42kW; space size required 12*5*4.5m, if you have ready space size, we can design installation according to ready space.
Space Occupation: L×W×H:10×5×3m
Corn& Maize features:
20-25% is corn skin and germ; other 75%-80% are corn powder and corn grits
When processing by the equipment, 10-20% corn grits can be removed, separate 4-8% corn germ, and 15-25% corn flour ,and 45-55 % gold powder or corn grits.
Generally, small handling capacity 50TPD, corn skin and germ mixed together, if need to extract corn germ, need to add germ extractor.
You can come to visit the corn grits, corn powder equipment, and additional equipment for corn porridge flakes, snack corn powder, corn oil, corn noodles.
Equipment List for Corn Grits & Corn Flour Milling Plant
---
Name

Specification

Qty

Photo

Whole plant

Overall review

Output:20TPD

steel frame structure

Power:73kW

Produce corn powder and corn grits

1

 

Cleaning Machine

To remove the impurities, stone, etc. To make the raw material meet the food grade standard requirement.

0.25KW*2

1

 

Elevator

Mechanical lifting particle materials to the next processing program

0.75KW*4

 

2

 

Magnetic Selector

to remove the iron by magnetic force

1

 

Corn huller

Remove corn shell and blastema

11KW

 

 

Degerminator Machine

Remove corn germ

15Kw

 

 

Rough screen

0.25Kw

 

 

Corn polishing machine

11kw

1

 

germ extraction machine

To remove the germ from corn

1

 

Single Chamber Screen

Separate Corn

0.75KW

1

 

Low pressure fan

Remove dust and separate light and heave materials

7.5KW

1

 

High pressure fan

Offer air to convey materials

7.5KW

1

 

Grinder

Grinding materials to get product

7.5KW

3

 

Brushing machine

remove the powder from corn grits, to make the corn grits more bright and good color

1.5KW

3

 

Corn grits machine

to make the final required product

7.5KW

1

 

Brushing machine

Remove corn grits surface flour

1.5KW

 

 

AIR LOCK

close air to unload during conveying materials

0.75KW

6

 

Air Transport Pipe

 

1

Pipe, steel support, conveyors, fan net etc.
Final Corn Grits & Corn Flour Products
---

Company Profile
---
Romiter specializes in supplying the technology and service of wheat flour milling machinery and equipment, corn grits milling plant, rice flour milling plant, corn & cereals processing equipment for global market customer.

Send Us Inquiry to Get Quotation
---